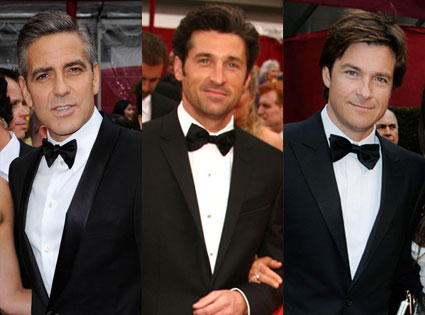 "Homens de fato e gravata (ou "piscos", lenços ou demais adereços aceitáveis). A elegância e o charme no seu esplendor total. Não concordam? Devia de ser decretada uma lei que obrigasse todos os homens a usar fato, gravata (ou outros adereços aceitáveis) e sapatos "Oxford" ou mocassins a partir dos 21 anos e menciono esta idade pois, é raro o rapaz que com a idade mínima legal seja dotado de responsabilidade e maturidade aceitáveis. Além disso, muito poucos ficariam credíveis com tal indumentária. Contudo, também sei dar a mão à palmatória. É claro que muitos e mais velhos são piores mas, a minha forma de pensar tem as suas nuances um pouco americanizadas e por isso, não retiro a minha palavra. 21 anos e dito está. Enfim... Isto hoje em dia, a nossa sociedade vai de mal a pior. Vai, vai...
Da Marie Scarlett, como sempre."
Autor:
http://o-meu-conto-de-fadas.blogspot.com/search?updated-max=2010-02-27T17%3A23%3A00Z&max-results=9
---
Apesar deste blog ser acerca de moda, isto até vai de encontro ao propósito que possuo. Eu não podia achar o autor deste blog mais brilhante e aliás estou a 200% de acordo com a sua tese.
---
Although this blog is about fashion, this is also related to it. I couldn't find the author more brilliant and I'm 200% apologist of his words.