24.4.10
Posted by

The Allure House
at 01:11
0 comments

18.4.10
#13 Rachel McAdams
Rachel McAdams is a Canadian actress and rising style icon. Every time Rachel McAdams hits the red carpet, we marvel at her flattering, original choices. However, her style may be even more effortless than we'd ever imagined. Vogue magazine says that her "interest in catwalk trends is so slight that when she received a Proenza tie-dye tee —before the runway, before anyone, the must-have piece for spring 2010!— she wore it to bed, alone." Therefore, Rachel McAdams is at the #13 place and is a style icon who may not even realize it.
---
Top 20: As celebridades femininas mais bem vestidas da actualidade
#13 Rachel McAdams
Rachel McAdams é uma actriz canadiana e ícone de estilo em ascensão.
De todas as vezes que Rachel McAdams aparece na passadeira vermelha, ficamos maravilhados com as suas escolhas elegantes e originais.
No entanto, o seu estilo pode ser até mais fácil de atingir do que tínhamos imaginado.
A revista Vogue refere que o seu interesse nas tendências dos desfiles é tão mínima que quando ela recebeu uma t-shirt com efeitos manchados da prestigiada marca Proenza-antes do desfile, antes que alguém obtivesse a peça must-have para a Primavera de 2010! - Ela usou-a como peça única para dormir.
".
Portanto, Rachel McAdams está no lugar # 13 e é um ícone de estilo que, por ventura, nem sequer se apercebeu disso.
Adapted text./Texto adaptado.
Posted by

The Allure House
at 18:55
0 comments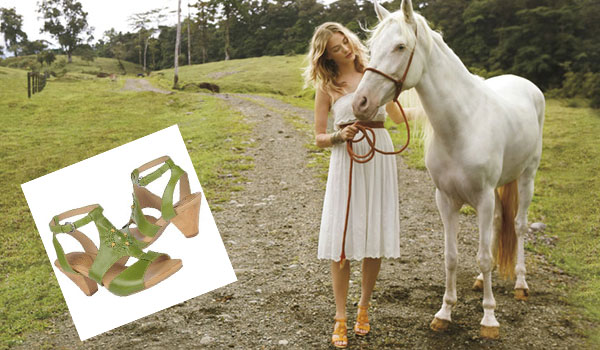 Go green this spring with eco chic footwear! Naya shoes are made with style and comfort in mind while still being gentle on the environment.
Using materials ranging from natural and organic fabrics to chrome-free treated leather, and biodegradable latex foam cushioning, Naya shoes make it easy to be good to your feet and our globe. The debut collection offers eleven different styles of wedges, flat sandals, heels and ballet flats priced between $110-$130. Factio loves the Naya Timpas t-strap sandles in wheatgrass or blaze with its decorative medallian made of eco-friendly materials and bamboo wood heel. Each shoe is presented in a box constructed of recycled paper, water-soluble glue, and soy-based ink, while including a reusable shoe bag. Naya is celebrating Earth Day (April 22nd) by partnering up with
Shoes.com
and Plant-It 2020. For each pair of these shoes bought in the month of April on Shoes.com, Naya will plant a tree. Not only that, but Shoes.com will plant one tree for all shoes purchased, no matter what the brand, sold on their site on Earth Day (as well as donate $1 to Plant-It 2020). So go ahead, give the gift of planting a tree! You can put it in your name or give as a gift to a friend. To find this eco chic footwear in the Illinois area, check out S&H Shoe in Chicago or Shoe Soko in Oak Park. Otherwise, Naya shoes can be purchased online at
Shoes.com
,
Zappos.com
,
Piperlime.com
,
PlanetShoes.com
, or
Nordstrom.com
. View Naya's video
click here.
---
Calçado Naya, com Estilo e Amigo do Ambiente
Nesta Primavera escolha calçado amigo do ambiente!
Os sapatos Naya são feitos com estilo e conforto em mente enquanto continua a ser amigo do ambiente.
Utilizando materiais que vão desde tecidos naturais e orgânicos de livres de cromo e couro tratado, e amortecimento de espuma de látex biodegradável, os sapatos Naya tornam-se mais fáceis de serem bons para os seus pés e para o ambiente.
A colecção de estreia oferece onze diferentes estilos de cunhas, sandálias, saltos altos e sapatilhas com preços entre R $ 110 - $ 130.
Cada sapato é apresentado numa caixa construída de papel reciclado, cola solúvel em água e tinta à base de soja, enquanto que inclui um saco reutilizável para os sapatos.
Naya está comemorando o Dia da Terra (22 de Abril) em parceria com Shoes.com e Plant-It 2020.
Para cada par destes sapatos comprados no mês de Abril em Shoes.com, Naya vai plantar uma árvore.
E não é só isso mas, Shoes.com plantará uma árvore para todos os sapatos comprados, não importa qual a marca, vendidos no seu site no Dia da Terra (assim como doar US $ 1 à Plant-It 2020).
Então vá em frente, dê a chance de plantar uma árvore!
Você pode colocá-la em seu nome ou dar de presente a um amigo.
O
calçado Naya pode ser comprado online em Shoes.com, Zappos.com, Piperlime.com, PlanetShoes.com ou Nordstrom.com.
Clique aqui para exibir o vídeo da marca.
Adapted text./Texto adaptado.
Posted by

The Allure House
at 11:50
0 comments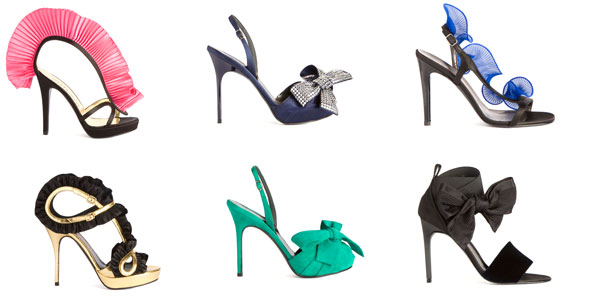 Shoe God Bruno Frisoni strikes again as this year's shoe collection struts proudly among the rest, with its vibrant colors and elaborate designs.
From his futuristic double platforms, to his numerous elastic banded pumps available in a wide range of contrasting colors, Frisoni really packs the punch! All of the shoes stand up to Frisoni's incredibly high standards of quality, making each shoe a true work of art. For more info, visit
www.brunofrisoni.com
---
A Vibrante Colecção de Bruno Frisoni
O Deus do calçado, Bruno Frisoni, ataca novamente com a colecção de calçado deste ano orgulhosamente entre as demais, com suas cores vibrantes e desenhos elaborados.
Das suas futuristas plataformas duplas, para os seus numerosos sapatos com faixas elásticas de lado disponíveis numa ampla gama de cores contrastantes; Frisoni consegue deixar-nos sempre boquiabertos!
Todos os sapatos correspondem com aos padrões de Frisoni, incrivelmente, de alta de qualidade, fazendo com que cada sapato seja uma verdadeira obra de arte.
Para mais informações visite www.brunofrisoni.com
Adapted text./Texto adaptado.
Posted by

The Allure House
at 11:46
0 comments

17.4.10
#14 Kate Bosworth
Kate Bosworth is an American actress and rising style icon. Her unconventionally beauty and elegance is noticeable. Wild, yet sophisticated, bohemian whilst grounded. The juxtaposition of all she stands for is what makes her unique. The most important thing about her looks is that sexy can be classy. To the ladies: remember that. Number one is sexy and sophisticated. Number two is fashion consciousness; a lovely dress, an elegant purse, a chic hairstyle... Sometimes, less mean more. Yet, exploring with consciousness can lead to chicness and originality. The difference between her and really excentric people is that she knows how to simply achieve it without any errors.
---
Top 20: As celebridades femininas mais bem vestidas da actualidade
#14 Kate Bosworth
Kate Bosworth é uma actriz norte-americana e um ícone do estilo em ascensão.
A sua beleza invulgar e elegância é perceptível.
Selvagem, mas sofisticada enquanto boémia com os pés bem assentes na terra.
A justaposição de tudo o que ela representa é o que faz dela única.
A coisa mais importante sobre a sua aparência é que pode ser sexy mas, elegante.
Para todas as mulheres: lembre-se disso.
O número um é sexy e sofisticado.
O número dois é possuir consciência de moda; um vestido lindo, uma bolsa elegante, um penteado chique ...
Às vezes, menos significa mais.
No entanto, explorar com consciência pode levar a laivos de elegância e originalidade.
A diferença entre Kate e pessoas realmente excêntricas é que ela sabe como consegui-lo sem cometer erros.
Posted by

The Allure House
at 23:02
0 comments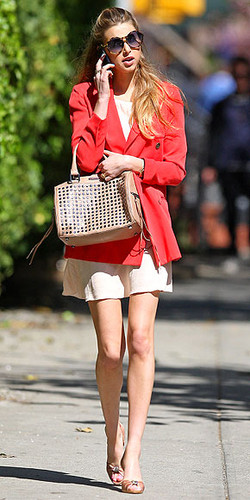 Whitney Port
Kate Moss
Olivia Palermo
Kim Kardashian
Jessica Alba
Posted by

The Allure House
at 21:52
0 comments