From chocolate to taupe, top nail experts reveal why they're down with brown
Brown lipstick is in for spring
- and so is brown nail polish. With soft undertones of mauve, gold, and gray, muddy lacquers made their debut on the spring 2010 runways of
Malandrino
and
Chanel
. While Malandrino featured sandblasted manis —
CND
Desert Suede was roughed up with coffee grounds and sugar for a textured effect — Chanel debuted
Particulière
, a new slate-tinged taupe. "It's very pure, fresh, and optimistic with a slight touch of rebellion," says
Peter Philips
, global creative director of Chanel Makeup, about the polish. Philips says he chose the "incredibly sophisticated color" because it complements the beige palette of the house's spring collection.
According to
Suzi Weiss-Fischmann
, cofounder of
O.P.I.
, this season's browns look every bit as polished off the runway as on: "They're the new neutral, and they look great against any skin tone." Weiss-Fischmann recommends going with short nails for a "chic and modern" look versus an outdated one. She also suggests pairing brown shades with gold jewelry to give it an extra kick. Her go-to chocolate hue? O.P.I. Chop-Sticking to My Story. "I wear it with a big gold ring and bangles," she says.
.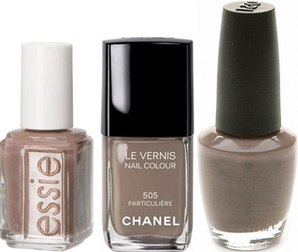 People everywhere are eager to get their hands on
Chanel
's new
Particulière
($23) nail polish, a flattering putty shade that's been generating buzz since the models wore it on the runways in Paris last year. Unfortunately, it's over $20 a pop, so those of us with limited budgets are forced to find our own way to wear the trend. To make things a little easier, a bunch of shades were tested and found some look-alike polishes that will keep you on the cutting edge without taking your lunch money. To find out what they are, just keep reading.
The best match by far is OPI You Don't Know Jacques! ($8), which really does look like Particulière from a distance. Upon closer inspection, Jacques is a bit grayer than its fancier counterpart, and I could see it being especially flattering for ladies with cool undertones.
Another very close shade is Essie Mink Muffs ($8), which is slightly more brown than the Chanel color. With a gray or white base coat and careful application, though, I think this one can be made into a pretty convincing match.
Borghese Biscotti Beige ($8) is also close, although side by side you can certainly see the difference. It's got all the brown of Particulière, but with a softening dose of mauve. It's a more subtle color than the Chanel, so if you'd like to stay on trend but don't want something harsh, I'd suggest finding a bottle of this. (Find a list of stores that carry Borghese polishes here.)
There is also another nail polishes that are pretty close or are slightly lighter or darker compared to the beautiful brown of Particulière, such as, Zoya Pasha, Orly Country Club Pasha, OPI for Sephora Metro Chic, Sally Hansen Comander in Chic, OPI Over the Taupe, OPI Chop - Sticking to my Story, Butter London Fash Pack, Andreia Number 79, Risqué Capuccino Colecção Arábica (a little darker than Particulière), Riqué Expresso Colecção Arábica, Essence Creamylicious Collection Number 04, Chocolate Shake, Dote Number 207 Joaquina (this one is much lighter but, still in the same shades of brown).
If you are a client of Schlecker stores, you may find "Basic" nail polishes in colours pretty much looking like Particulière and for less than $3.
---
Tendências Primavera 2010 para vernizes: Tons de Castanho
De chocolate a cinza, os especialistas em vernizes revelam porque, é que o castanho é o tom do momento
A grande tendência em batons é o castanho nesta Primavera - assim, como o verniz castanho.
Com nuances suaves de lilás, dourado e cinza, tons "enlameados" fazem a sua estréia na Primavera de 2010 nas colecções de Malandrino e Chanel.
Enquanto, Malandrino apresentou um tom de areia escuro nas unhas das modelos - CND Desert Suede foi visto num tom de borra de café e açúcar para um efeito texturizado - Chanel estreou Particulière, um novo ardósia cinza-tingido.
"É muito puro, doce e optimista, com um leve toque de rebeldia", diz Peter Philips, director criativo global da Chanel Make-up, sobre o tom castanho.
Philips diz que escolheu a cor "incrivelmente sofisticada" porque, complementa a paleta de cor bege da colecção de primavera da marca.

Segundo Suzi Weiss-Fischmann, co-fundador da OPI, os tons pardos desta temporada são a grande tendência dentro dos desfiles, tal como, fora: "Eles são os novos neutros, e ficam muito bem em qualquer tom de pele." Weiss-Fischmann recomenda apresentar unhas curtas
para uma "aparência elegante e moderna" versus um look ultrapassado.
Ela também sugere que o emparelhamento tons de castanho, com jóias de ouro conferem um elã especial.
A sua escolha para a tonalidade de chocolate?
O.P.I.
Chop - Sticking to my Story.
"Eu usei essa cor com um grande anel de ouro e pulseiras", diz ela.
Para todos que estão ansiosos para meter as suas mãos sobre o novo tom castanho do verniz Chanel Particulière, um tom lisonjeiro e polido que foi gerando muito falatório já que as modelos o usavam nas passereles em Paris no ano passado.
Infelizmente, o custo do verniz é ainda significativo, assim que aqueles que possuem orçamentos limitados são forçados a encontrar a sua própria maneira de usar a tendência.
Para tornar as coisas um pouco mais fáceis, um monte de vernizes foram testados e encontrados alguns esmaltes parecidos que iram mantê-lo a par das tendências, sem que tenha que fazer cortes extraordinários no seu orçamento.
Para descobrir quais são, continue seguindo o texto:
* O melhor verniz parecido de longe é o OPI You Don't Know Jacques!
Custa cerca de 8 euros, encontrando-se a uma distância enorme em termos de gasto comparando com o Particulière.
Após uma inspecção mais próxima, este verniz é um pouco mais cinzento do o verniz da Chanel, sendo especialmente um verniz favorecedor para mulheres com "undertones"/peles mais claras.
* Outro verniz que é muito próximo é o Essie Mink Muffs (custa cerca de 8 euros), e é um pouco mais castanho do que a cor da Chanel.
Com uma camada de base branca ou cinza e aplicação cuidadosa, porém, penso que este pode dar um efeito mais convincente.
* Borghese Biscotti Bege (custa cerca de 8 euros) também está perto, embora lado a lado, certamente você pode ver a diferença.
É castanho como o Particulière, mas com uma coloração suave de malva.
É uma cor mais subtil do que o do Chanel. Por isso, se quiser permanecer dentro das tendência mas, não quer algo demasiado pesado, eu sugiro encontrar um frasquinho deste verniz.
* Existem também outros esmaltes que estão muito perto ou são ligeiramente mais claros ou mais escuros em comparação com o castanho bonito do Chanel Particulière, como Zoya Pasha, Country Club Orly Pasha, OPI for Sephora Metro Chic, Sally Hansen Comander in Chic, OPI Over
the Taupe, OPI Chop - Sticking to my Story,
Butter London Fash Pack
, Andreia número 79,
Risqué Capuccino Colecção Arábica (um pouco mais escuro do que o Particulière), Riqué Expresso Colecção Arábica,
Essence Creamylicious Collection número 04, Chocolate Shake, Dote Número 207 Joaquina (este é muito mais leve, mas, dentro das mesmas cores).
* Para quem é frequentador das Lojas
Schlecker pode adquirir por apenas 1,50€ vernizes "Basic" e que possuem cores aproximadas ao verniz Chanel Particulière.
Adapted text./Texto adaptado.