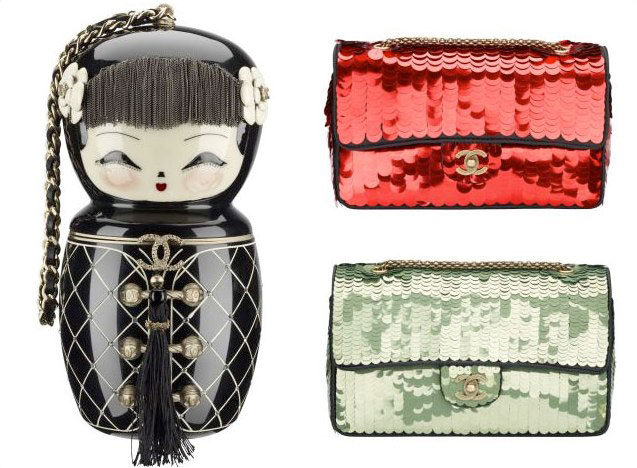 Last year, Chanel developed a line inspired by Moscow, Russia. This year, the luxury brand is launching a limited-edition collection of jewelry and handbags sparked by the Universal Exhibition happening in Shanghai on May 1st.
The adorable collection features necklaces, earrings, bracelets and handbags. It includes everything from clutches and earrings shaped like dolls, cuffs carved with dragon designs, and take-out box bags with a chain strap and the Chanel logo stamped on the side. The collection will debut in certain Chanel boutiques this May. Even though it's Chanel, I will always prefer the Chanel classic flap. or Chanel Ressuie 2.55 Much more elegant and polished.
---
No ano passado, a marca Chanel desenvolveu uma linha inspirada em Moscovo, Rússia.
Este ano, a marca de luxo está a lançar uma colecção de edição limitada de jóias e bolsas apresentada na Exposição Universal em Xangai e que acontece em 1 de maio.
A adorável colecção inclui colares, brincos, pulseiras e bolsas.
Contém tudo, desde clutches e brincos em forma de bonecos, pulseiras com
desenhos esculpidos
de dragão, e sacos de take-out com uma corrente e o logótipo da Chanel estampado na lateral.
A colecção será lançada em certas boutiques Chanel em Maio deste ano.
Mesmo que seja Chanel, eu vou sempre preferir a "Chanel Classic Flap" ou mesmo a "Chanel Ressuie 2.55".
Muito mais elegante e selecta.
Adapted text./Texto adaptado.